Spring is right around the corner and is a great time to refresh our bedrooms with new bedding and accent pillows.  Today's post is all about "How to Arrange Bed Pillows" and "Creating Stylish Bed Ensembles".  Although there really aren't any rules to arranging and dressing your bedroom ensemble it's nice to achieve a clean and finished look.  Here are my top six bed pillow arrangements that I like to use: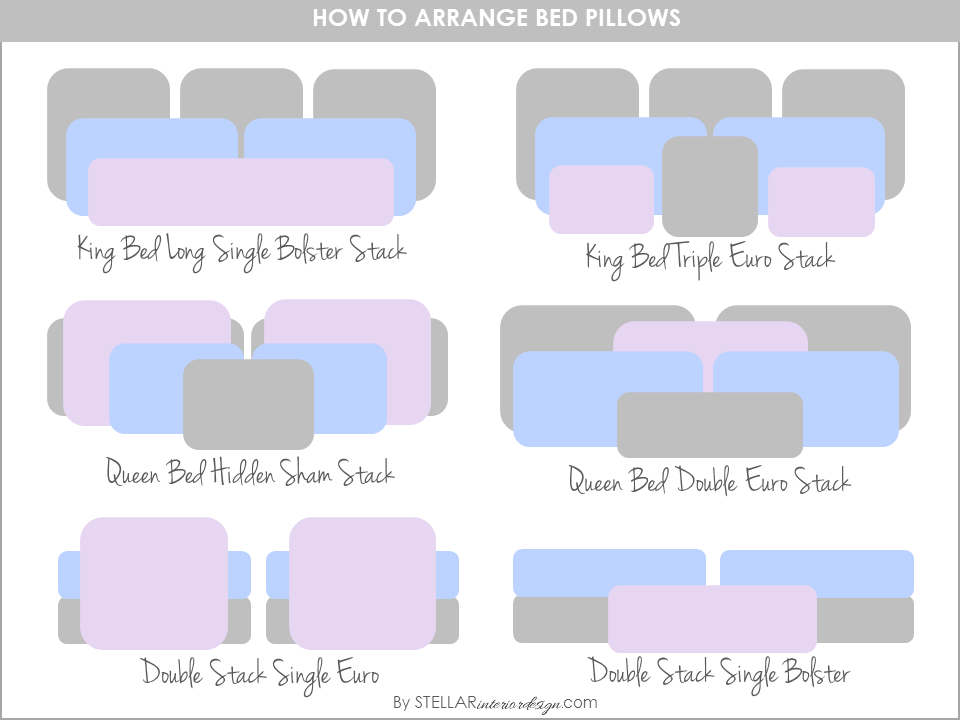 1) Long Single Bolster Stack
2) Triple Euro Stack
3) Hidden Sham Stack
4) Double Euro Stack
5) Double Stack Single Euro
6) Double Stack Single Bolster
STYLISH BED ENSEMBLES

These stylish bed ensembles includes some of the latest accent pillows and are broken up into four design styles.  Are you Modern, Global, Bold or Glamorous ?  From neutrals to brights there is something for every design style personality.
Modern Ensemble: Navy and purple are an unexpected color combo which are masculine and feminine.  This ensemble is mixed with a crisp lilac border and white euro sham paired with new Kara navy Greek key pillows and a new DL Rhein eclectic seismograph multicolored ikat accent pillow for a little edge.
Global Ensemble: For a fresh mix go for happy colors like yellows, greens and oranges.  This ensemble is a global chic look with a grass green medallion print Coronado Euro sham and Chiang Mai Asian throw pillow which pulls all the colors together.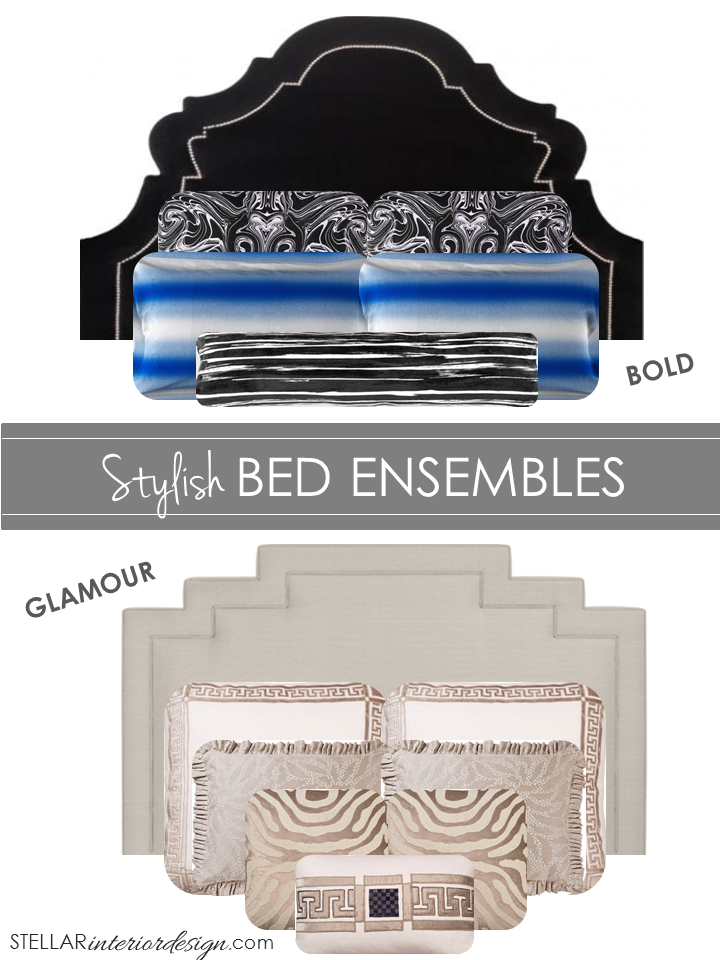 Bold Ensemble: Black and whites are classic and make for a great foundation against most colors including the royal blue Cristal standard shams by Lorena Gaxiola. The graphic Agua Euro sham and Cielo accent bolster pillow are bold and current in their patterns.
Glamour Ensemble: Neutrals are beautiful and can still make a statement if you incorporate the right layering into your group.  Ivory silks and rayon's with elegant velvet trims make up this glamorous ensemble.

 For more information on my interior design services or online e-design please visit my website.