Today I'm continuing my E-Book series on "How to Mix Fabric Patterns".  As I mentioned in yesterdays post I created E-books for my subscribers and now I'm sharing them with all of my readers.  It can be a difficult task for many when it comes to coordinating fabrics and creating a cohesive look for one's space.  With so many colors, patterns and textures to consider it can get a bit overwhelming.  I've put together a few tips to keep in mind when attempting to mix patterns.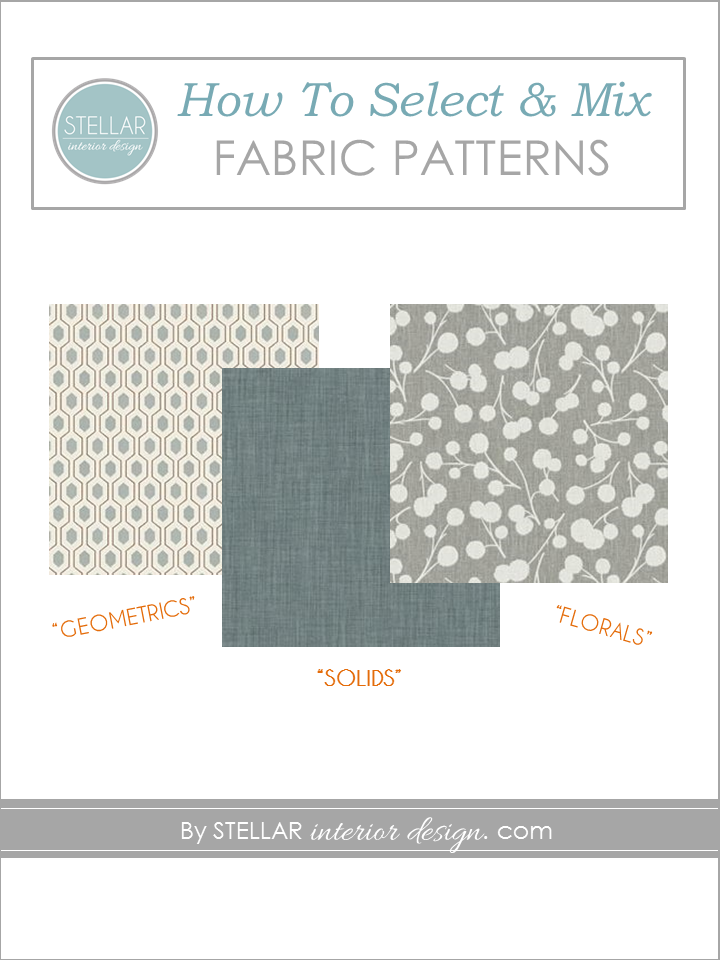 MIXING FABRIC PATTERNS 101

Tip #1.  Group in odd numbers: sets of three's work nicely.
Tip #2.  Contrast your color palette to create an interesting look and repeat the colors throughout your space.
Tip #3.  Consider the 60/30/10 Rule: 60% for your main pattern, 30% for the second and 10% for the accent.
Tip #4.   Start off by pulling colors from your main pattern first to apply to the second and third patterns so your grouping looks cohesive.
Tip #5.  If you are going for a more serene subtle look be sure to add in sheen's and textured fabrics so that the space doesn't go flat.
Tip #6. Try patterns in a range of scale sizes. Example: a large floral, a medium geometric and a small stripe while adding in your solid colors providing relief to the eye so that you avoid a busy look.
Tip #7.  Use large scale patterns in large spaces and small patterns for smaller spaces.
Tip #8.  If you would like your space to appear taller or larger consider using vertical and horizontal stripes.  This is very effective for larger areas creating the most impact like wallpaper, area rugs and drapery panels.
Remember to have fun and choose colors and patterns you absolutely love.  Patterns give personality to a space so don't be afraid to use them.  Here are a few fabric pattern groups to give you the idea.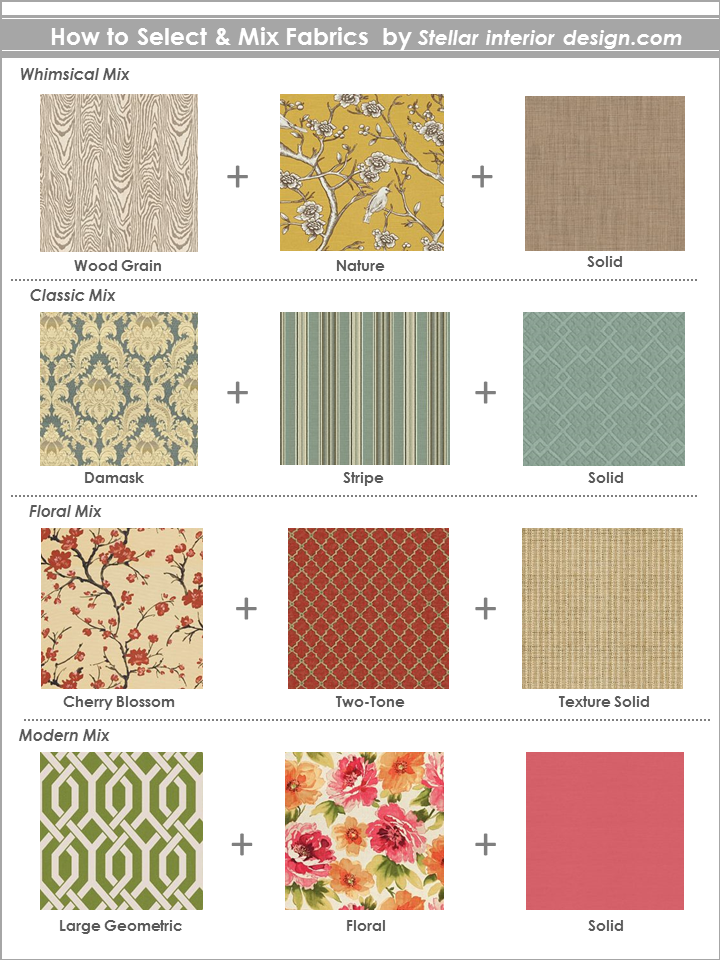 If you find that your struggling or feeling overwhelmed we are here to help you.  Leave a comment or ask a question.
For more information on my interior design services or online e-design please visit my website.